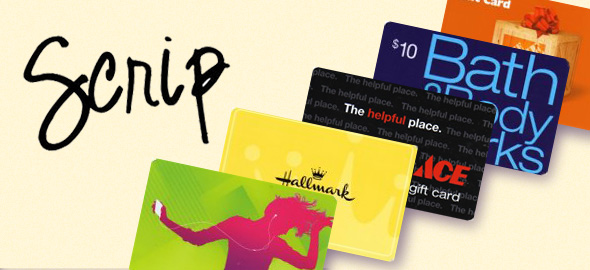 Great Lakes Scrip Center serves non-profit organizations and major US retailers through innovative scrip fundraising programs. 

Scrip fundraising is a no-selling program that enables families to raise money for their non-profit organization (NPO). Scrip is just another way to pay for everyday purchases using gift cards in place of cash, checks, and credit cards.
You purchase gift cards from your organization at face value, and your coordinator orders those cards from Great Lakes Scrip Center at a reduced price. The difference is an instant rebate for fundraising. It's really that simple!
Great Lakes Scrip Center offers over 300 of the country's biggest brands, including grocery, department stores, gas stations, restaurants, hotels, home improvement, and more. Just by using scrip to pay for your normal weekly purchases, you can easily raise $500 or more per year. It's time to put your shopping dollars to work!
Different retailers offer different denominations of gift cards and different percentage rebates.  95% of the SCRIP rebate you earn goes toward your fundraising credits. 5% goes to the band to cover administrative costs.
Saving Money Through SCRIP (example):
You are going to eat at O'Charley's so you buy a $50 gift card for O'Charley's restaurant through SCRIP and pay $50.   The rebate on O'Charley's gift cards is 13%.  Thirteen percent of $50 is $6.50.  Five percent of the $6.50 goes to the band and ninety-five percent goes directly toward your individual band fundraising requirement and band fees.    So that $50 trip to O'Charley's only cost you $42!
How it works
Order forms are available at the weekly SCRIP sale to fill out on the spot, or you can print, fill out ahead of time, and bring with you.
Scrip Sales are in the school Cafeteria each Tuesday from 5:30-7pm.  OR you can drop off your order form with a check in the drop box labeled 'SCRIP' in the band room by the Tuesday you want your order placed.  A number of popular SCRIP cards are kept on hand at the SCRIP sale; if the card you want is not available, it will be ordered and ready for pickup at the SCRIP sale the following Tuesday.
Full Retailer List and the percentage rebate and denominations they offer can be found at www.shopwithscrip.com at the bottom of the page under Quick Links.  More Specials can be found under the WHATS NEW tab!  Bonus rebates are also listed in the weekly Band email blast. Payments by check only. Please, no cash or cards accepted.
If you would like to have even more purchasing flexibility, enroll in ScripNow and you can purchase e-Giftcards online anytime instantaneously!
You can earn money towards your fundraising credits through Using SCRIP Gift Cards for these Normal Everyday Expenditures:
Eating out, Groceries, Gas, Prescription Drug copays, Gift Cards as gifts, College textbooks (Barnes & Noble),  Online Shopping, Electronics, Home Décor, Home Improvements, Lawn & Garden, Sporting Goods, Office Supplies, Computers, Appliance Purchases, Movie Tickets, Pizza, Morning coffee, Doughnuts for the office, Music/App/Ebook Downloads, Kohl's bill, Amazon Instant Video, Hotels, Airfare, Car Rentals, Cruises, Disney trips, Pet Supplies, Haircuts, Massages/facials, Oil changes,  Auto Parts.
Popular SCRIP Brands
Publix, CVS, Wal-mart, Walgreens, Sprouts, Target, Home Depot, Lowe's, Starbucks, Groupon, Wendy's, Subway, Taco Bell, Stars n' Strikes, Panera Bread, Belk, JCPenney, Macy's, Kohl's (can be used to pay Kohl's charge), Sears, Olive Garden, Macaroni Grill, Chili's, Dunkin Donuts, Daily Grind, Dairy Queen, Longhorn's, Red Lobster, O'Charley's, Carrabba's, Cracker Barrel, Domino's, Little Caesar's, Pier 1 Imports, Barnes & Noble, Ross/TJ Maxx, Marshalls, Old Navy, Bed Bath & Beyond, Amazon.com, eBay, iTunes, Best Buy, Michael's, Academy Sports, American Eagle, Cabela's, Famous Footwear, Sam's Club, Ruth's Chris, Dell, GameStop, Sling TV, HuluPlus, Staples, Delta, Disney, Great Clips, SpaFinder, GNC, Shutterfly, Jiffy Lube, Hallmark Gold Crown, Petsmart, Petco, and many more!